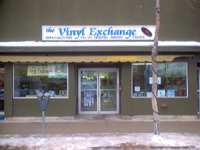 Welcome to The Vinyl Exchange...Online!

In business for 11+ years, we carry vinyl records (lps and 45s), cassettes, cds, t-shirts, bunny-hugs, and a variety of other products. With literally tens of thousands of record titles available in stock, we have what you're looking for: rock & roll, alternative, punk, industrial, metal, blues, jazz, classical, country, avantgarde, folk, and numerous sub-genres. Looking for a specific title? !

Thanks for stopping by!

Be sure to check out our and check back, as we continue to update the site!